First Patient Joins StimuSIL's SAGA-001 Clinical Trial 
Delaware, US; May 31st, 2023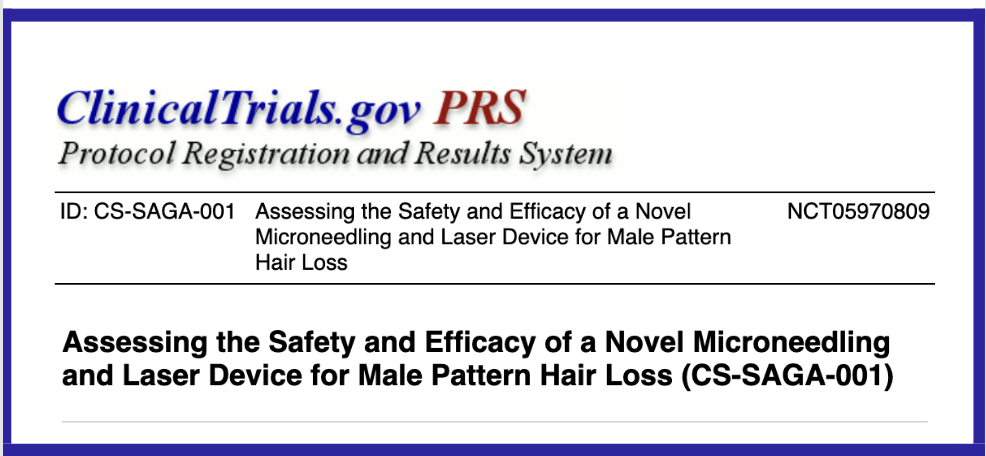 StimuSIL is delighted to announce the enrollment of the first participant in its clinical trial of SAGA-001 for the treatment of male androgenetic alopecia. This milestone marks an exciting step forward in the use of the SAGA-001 device as a treatment for pattern hair loss. 
Androgenetic alopecia, commonly known as pattern baldness, is a progressive form of hair loss that affects over 80 million people in the United States. StimuSIL has been researching and developing novel ways to deliver photobiomodulation as a treatment for dermatological and aesthetic conditions. The team now takes pride in initiating this innovative clinical trial to evaluate the efficacy and safety of the SAGA-001, a device that combines microneedling and laser hair therapy, as a treatment for androgenetic alopecia.
The SAGA-001 Clinical Trial
The StimuSIL clinical trial aims to assess the safety, efficacy, and potential of SAGA-001, a state-of-the-art medical device specifically designed to stimulate hair growth, while also promoting the regeneration of hair follicles. With its cutting-edge technology and novel approach, SAGA-001 presents a ray of hope for men seeking an effective, minimally invasive hair loss treatment. The SAGA-001 is StimuSIL's first medical device incorporating its novel, patented approach to photobiomodulation to enter clinical trials.
Ana Villalba, CEO and Co-Founder of StimuSIL, said her team was "thrilled to have enrolled the first patient in our clinical trial of SAGA-001. Androgenetic alopecia can have a profound impact on self-esteem and quality of life. We are hopeful that treatment with the SAGA-001 device will provide a much-needed solution to address the challenges faced by those affected by hair loss."
The SAGA-001 clinical trial will involve around 80 male participants at two centers in Turkey: Ankara and Istanbul. This pivotal research marks a significant step toward gaining regulatory approvals and offering a potential breakthrough treatment for AGA on a global scale.
StimuSIL remains committed to pushing the boundaries of medical innovation and addressing unmet needs in the field of hair restoration. The company is working closely with regulatory authorities, healthcare professionals, and patients to ensure that treatments with the SAGA-001 device fulfills its promise as an effective treatment for early-to-mid stage male androgenetic alopecia.
If you are interested in participating in this or future clinical trials, please reach out to the StimuSIL team at accounts@stimusil.com.
About StimuSIL
StimuSIL is biotechnology company dedicated to revolutionizing solutions for dermatological and aesthetic issues through cutting-edge research, innovative technology, and a passion for improving lives. StimuSIL's SAGA devices are focused on addressing the challenges related to treating androgenetic alopecia and other hair-related conditions. Through collaborative efforts with healthcare professionals and patients, the company seeks to create a future where hair loss is no longer a source of distress.