From 8Fit to StimuSIL
Delaware, US; June 27th, 2023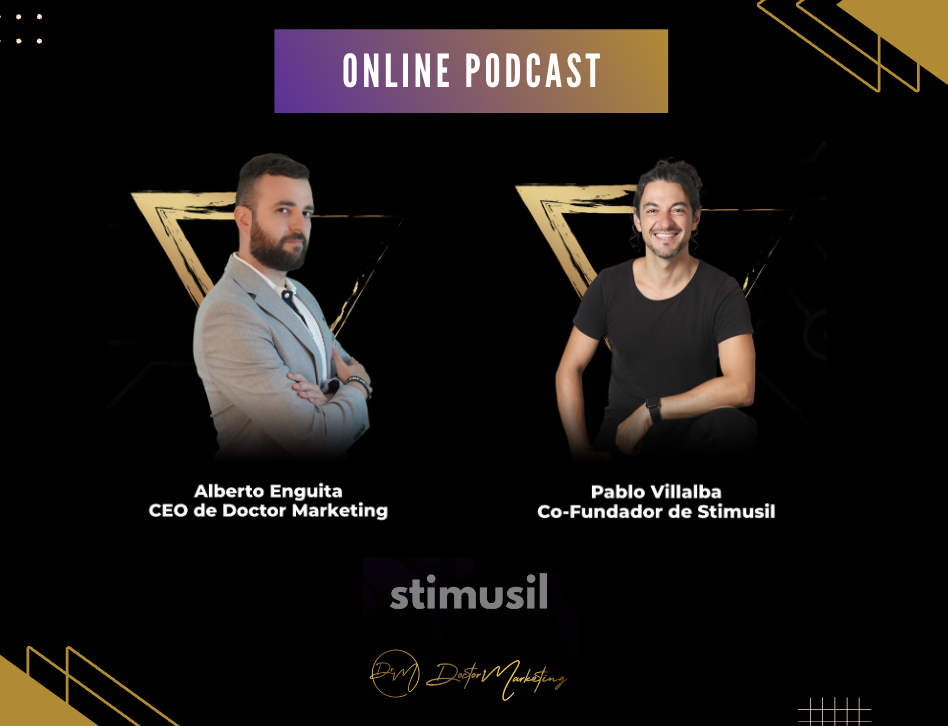 On May 30, 2023, Alberto Enguita, CEO of Doctor Marketing, released a podcast featuring Pablo Villalba Villar, Co-Founder of StimuSIL. The text below is the translated transcription from that podcast. You can also view the recording of the podcast in Spanish.
A Podcast with Pablo Villalba, the Entrepreneur Changing the World
Alberto Enguita, CEO of Doctor Marketing:
Before we start the podcast, I'd like to congratulate you on StimuSIL. The other day I was listening to a talk you were giving for potential investors interested in joining the funding round that's ongoing at Capital Cell. And I realized all the work you have done, the effort it takes, and how you have thought of every single little detail.
People were asking tough questions, and you had everything prepared and super thought out. You said, 'Look, for that question, I have this slide, and I'll explain it to you'. In the end, one person who maybe didn't 100% trust your innovation totally changed after about 30 or 40 minutes and is now going to become an investor. So congratulations on all you're doing at StimuSIL.
In this podcast, for those who don't know him, we'll be talking to Pablo Villalba, one of the best entrepreneurs we have here in Spain. He's already achieved success in two startups that he did – which we're going to talk about in this podcast too – and now he's working on a third one, StimuSIL, that we'll talk about as well. But first, Pablo, how are you?
Pablo Villalba, Co-Founder of StimuSIL:
Very good, very good. Pleased to be here with you, Alberto. I'm looking forward to having a coffee with you and chatting.
Alberto Enguita, CEO of Doctor Marketing:
Perfect. I think this will be seen by many entrepreneurs as we'll be sharing a bit of interesting information about you and your experiences – since you've accomplished things that a Spanish entrepreneur doesn't usually achieve.
If it's all right with you, why don't we start at the beginning? It seems to me that you've been in the entrepreneurial world for about 14-15 years now, right? Or how many years has it been?
Pablo Villalba, Co-Founder of StimuSIL:
Well, yes, the truth is that it's been 15 years. It's gone fast. I feel like we're just starting out, but you look around and say my goodness, where has the time gone?
Alberto Enguita, CEO of Doctor Marketing:
Time passes very quickly. I also started 12 or 13 years ago. But when you look around, you really do say, 'We've only just started', right?
I was doing some research before the podcast. And I don't know if it was your first idea or not, but the idea that you were known for that made it big and that you brought from Europe to the United States – that was Teambox, right? That was your first idea.
Tell us a bit about that. How did you go about creating a team management software in the cloud? What was this process like? Because it's already difficult to create something and have it succeed, let alone have it cross the pond and enter the American market.
Pablo Villalba, Co-Founder of StimuSIL:
Since I was little, I was lucky that, thanks to my parents' work, we traveled to the United States, and I was exposed to American life and culture. In the 90s, my father was one of the first to start using the internet. And that's something that we all experienced a little from home, right?
I grew up with this dream of making video games. I wanted to make video games, and I wanted to make something just like the games I played. My games were always in English, and they all came from this mysterious country [the United States].
In the end, I studied aeronautics. The first opportunity that came up was for a company that needed a type of project management software. They needed it created in a very specific way, so I said, look, let's do it and see how far we can go with it. We were very lucky that this was when software had begun to transform. It no longer had to be a complex application that had to be installed. Instead, it worked a bit more like Facebook.
So we ended up creating a bit of a prototype. As we started making it, we managed to get financing from Spain. And gradually, we realized that we had something interesting on our hands. We found that where [our software] worked the most was actually abroad, where people were most willing to try out something new.
Little by little, I started making trips to the United States. First, they were short trips, and then they became longer ones. In the end, I ended up spending half of my year in California and half in Barcelona, which is where I was originally based. For five or six years, we grew Teambox. It was later renamed Redbooth, and the process was super interesting. It was one of the first Spanish companies to get bought by Americans, and well, [the whole experience] was a very cool adventure.
Alberto Enguita, CEO of Doctor Marketing:
How did that all occur? How many employees did you have at that time when you were with the company?
Pablo Villalba, Co-Founder of StimuSIL:
Actually, the employees are super interesting people. Jordi Romero, Bernat Farrero, and Pau Ramon, who are the founders of Itnig and Factorial, are doing super well today. We were actually all in the same office at the beginning.
Jordi was the first CTO; Pau was the second. Bernat was a close colleague. Teambox was a bit like the original mafia behind 'software as a service' [SaaS]. Back in Barcelona, each of us started to create projects.
We learned that software is a bit agnostic. Well-made software can be made in Spain and sold internationally. But we discovered that having a local sales team is super important, so we increasingly started to bring in good people, like a CEO and sales directors in the United States. Thanks to that, clients like Square and a lot of Fortune 500 companies started reaching out. We ended up learning a lot.
Alberto Enguita, CEO of Doctor Marketing:
So you were a bit of a pioneer that led the way in creating software in the cloud. Even now, I still see companies that still have on-premises software and haven't made this transformation to the cloud world yet.
How does the process of selling a company work? Because, of course, I see two paths you can undertake.
In one path, you set [the company] up yourself, and you grow organically as you're able to. But there are other types of startups and technology businesses that already require investment in order to grow, and those investors also want to obtain a return later on. There's usually talk of taking it to a certain point, then having an exit so that the people who have been investing obtain a return.
Tell us: How does that process work? Because there aren't many people who have experienced it.
When people tell me about it, it seems complicated from my point of view as an entrepreneur. You have raised the company, created the team, and then you have to sell it. What's that process like? Because it's kind of like selling a small part of yourself, too, right?
Pablo Villalba, Co-Founder of StimuSIL:
Yeah, it's true. I've had two transitions of companies I've created that have had an exit and changed owners.
The first time was very strange because, during this process, you are an entrepreneur. Your whole environment is made up of friends and workers who are very close to you. And, of course, when you lose your work environment, you practically lose 80% of your life. Then, that loss of environment becomes your reality.
The first time, it was very difficult because it was something that I did not expect. Suddenly, the phone stopped ringing. I stopped having emails. There was this huge void [in my life].
In fact, after leaving Teambox, I decided to get in shape. I'd spent many hours in the office and was 10 kilos overweight. I started thinking, 'Okay, I'm going to focus on myself'. Well, I had surgery to correct my vision, I began to exercise, and I started to diet. Many people started asking me, 'How do you do it? Share your plans with me!' And I realized: This is the perfect opportunity, we have to make an app! And that's where 8fit came from.
This time, we had [the exit] in mind from the beginning. We thought, 'Okay, we're going to create a company. It's going to be an adventure. We'll meet friends along the way, but this will be something that has an end.'
Five years later, the company had an annual turnover of over 20 million. A success, right? This time I was in Germany. To tell you the truth, this was the sort of product that many Spaniards created in Germany. But most of the market – more than 60% – was in the United States.
We were lucky that one of my favorite companies, Withings, which makes smart fitness devices, bought us. Given that this was the second time [I experienced an exit], everything was a little easier. You can already see it coming. There's a moment when lawyers enter the scene, and transactions begin to be prepared. There are always ups and downs of whether we will close, whether we won't close, and changing the numbers. But despite this – the second time, it was much easier.
Alberto Enguita, CEO of Doctor Marketing:
The second time, when you started with the concept of the app, you hadn't yet sought funding, right? Did you do it with your own funds and your own fundraising campaigns? What was the initial process like until you launched funding rounds and started growing?
Pablo Villalba, Co-Founder of StimuSIL:
Yes, the first steps were with my own funds. And at a certain point, I had to make a decision. I could do it by myself, but then I would have to reinvest all of my own money and put it here.
I thought to myself: Why not raise the money, have companions during this journey, have someone ask me for explanations (which, in the end, is actually very good, right?), and have [someone] who makes you improve your decisions?
We ended up working with Vitamin K before they became K Fund; they were the first investors. Little by little, people who were friends and others entered, but we also went to larger investors.
What worked very well for 8fit were two things: One is that it is a mass market. You can say to anyone in their 30s, 'Do you want to get fitter?', and that person is going to say, 'Yes, what can I do? What can I do in 30 minutes? Because that's all I have.' The message worked great.
The second was online advertising. We lived in the golden age, where you could have ads on Facebook and you could put them on Pinterest. In fact, the number one pin for several years was 8fit's. It was a very simple pin that said: "Get fit from home".
We were lucky [running this project] during the golden age of online advertising. Today, as you know, everything is more difficult. It's more competitive. You have to know how to do [online advertising] very well, and that's why the teams that know how to do it succeed. It's not so easy anymore.
Alberto Enguita, CEO of Doctor Marketing:
Yes, it's much more complicated [now].
Also, I was looking at the Play Store – the Android store – and it says that right now, 8fit has had more than 10 million downloads, only in the Android store, which is crazy.
Pablo Villalba, Co-Founder of StimuSIL:
One million customers. One million unique credit cards. This actually means that a million people around the world have paid something.
Alberto Enguita, CEO of Doctor Marketing:
Of course, after this second adventure, you'd already done [an exit] twice. You had created the idea. So, you're more of an entrepreneurial inventor, right? You invent an idea, launch it, and then you get investments so that more people can join the project until it reaches a specific point.
There are other types of entrepreneurs who might stay with a company for the rest of their lives – or for something like 20 or 30 years. They create a totally different type of company.
Looking at your profile, you're now with a company that's focused on medical devices – a totally different sector. You've created quite an interesting technological innovation. But [despite being in a different sector], you're still following those exact same steps.
First, you created the invention. Now, you're in investment rounds and financing rounds. And I suppose that you've already planned when to sell or how to close. It's like you come up with the idea and build out the whole map until the exit.
Tell us a little more about this third idea. Right now, there's a round of financing underway in Capital Cell. It's a funding round of 1.6 million euros through Equity Crowdfunding.
For anyone who's unfamiliar with [equity crowdfunding], it's like the old crowdfunding campaigns mixed with the company issuing stocks. It's something quite novel that allows anyone – rather, the average person – to invest 1,000 or 2,000 euros. It has the potential for a fairly high estimated return.
Tell us a little from the beginning: How did you come up with this idea, and what did you have to do to do to be able to invent something new? Software is one thing, and an app is another, but now [this project has] reached the physical world with other types of issues. I'm much less knowledgeable about [medical devices] than the other two.
How is this process, from [the moment when you say] 'Hey, this idea's occurred to me'? What steps did you take to get started, and how did you take them?
Pablo Villalba, Co-Founder of StimuSIL:
Well, first things first – this time, I'm not alone. This time, which is totally different from the others, I decided to do [this project] with my sister. So it's really been a family startup from the beginning.
I saw that fitness worked super well. By that point, I was a few years older and no longer out of shape. But what was happening was that my hair was falling out.
Alberto Enguita, CEO of Doctor Marketing:
Now it seems we have the solution.
Pablo Villalba, Co-Founder of StimuSIL:
Yes, I'd been seeing the first signs here [pointing to temples].
Alberto Enguita, CEO of Doctor Marketing:
It looks like I'm headed in this direction too.
Pablo Villalba, Co-Founder of StimuSIL:
The truth is that we can't complain.
Alberto Enguita, CEO of Doctor Marketing:
Yeah, we're good, we're good.
Pablo Villalba, Co-Founder of StimuSIL:
We're all right.
Talking to my sister, I said, 'Hey, this has a lot of similarities – it's a mass market that potentially has people with a lot of interest, people who want their treatment to be low-key in order to incorporate it into their lives.
We saw that a common solution was a hair transplant. But you'd need to go to Turkey and spend six months there or find someone – who doesn't have a one-year waiting list in Spain – who's of the caliber you're looking for.
We noticed a gap in the market and decided [the market] was ready for a new product. Many people who are suffering from hair loss will already know about minoxidil and finasteride, with its possible side effects, but there's still a gap in the market. Essentially, they are solutions that don't totally work. It's more like, hey, why not [try the product]? You use it for a while, and eventually, you get a hair transplant. But in between, there's a very difficult emotional path for some people, and that's something that we took into account.
So, we thought about creating a device or technology that would help as much as possible. We wanted to produce the kind of results that a transplant could have without being so invasive. We started investigating, we started to work with scientists, and little by little, we formed this team.
Neither Ana nor I are experts in biotechnology – but we've learned a lot. We've tried to primarily surround ourselves with people who are talented experts.
Some trichologists, both in Spain and internationally, recommended that it's essential to do something that helps the doctor – because eliminating the doctor [from the treatment] is something that generates distrust and causes potential patients to be skeptical.
So, we've focused on the science and producing a non-invasive device that doctors can use. We have a state-of-the-art device, and we have a patent. Soon, there will be three [patents]. And we're working on bringing this device to market.
Alberto Enguita, CEO of Doctor Marketing:
Okay, and what's the plan? Because now we're in a funding round that's about to close (or if you see this in a few months, it's likely already closed). What is this process? When you finish, for example, this round – which, I think, is the final round before going to market or doing the last tests – what's the plan you'll follow once this round is closed?
And also, before you answer that, why did you decide to open it up to any type of person? I think that in your other projects, you didn't do funding rounds of this type. [Fundraising] targeted much more typical investors and people who primarily invest. That's also different, right?
Pablo Villalba, Co-Founder of StimuSIL:
Yes. Normally, in the medical device field, you reveal nothing. You are totally secretive as you develop the technology. First, you test it on animals, then on humans, you make your patents in the utmost secrecy, and you bring [your product] to market.
We are following a slightly different path. We've already passed this period of secrecy and now know that we have positive results. So what we are looking for are allies, essentially a bunch of ambassadors, who can support what we are going to do.
Talking with Capital Cell, we realized that many of these investors are doctors and people in health and aesthetics, so we decided to open a part of our company to them. We have a total round of 5 million led by a publicly traded pharmaceutical company that is a very strategic investor for us. We have other individual investors, families investing money, as well as family offices.
But for this part, from Capital Cell, we have opened with 1.6 million. This is a strategic part for us, where we hope to reach doctors and people in aesthetics. We believe that having them close to the project can help us a lot during the commercialization phase.
Also, we haven't stopped being a company that was founded in Spain. We want to work very closely with our local market because we consider it a place to learn. We can be pioneers here, then bring what we learn to the rest of the world.
So right now, I think there's $1,600,000 left. I think close to a million of that has been met. But as you say, it will depend on when someone sees this.
Alberto Enguita, CEO of Doctor Marketing:
That's a very good idea. Honestly, that way, the public will be familiar with [the product] before it hits the market. And for people who invest, you can give them some exclusivity, and they can also help you expand, which is a total win-win, right?
So when this round is over, what's your plan? Imagine that we've already finished this fundraising campaign. Now, what are you going to do? Are you going to do more studies, or are you going to enter the market? Are you going to start production? Tell us a little more about what that process looks like once [this round of fundraising] is over.
Pablo Villalba, Co-Founder of StimuSIL:
So just yesterday, a new study center started in Turkey. We have two centers – in Istanbul and Ankara – that are doing a human trial. We're testing two different configurations of the device, A and B, to understand which one will work better.
Once we know this, we have to do a confirmatory study, which will be next year. After that, we will send the documentation to the FDA and to the European authorities. Right after that, in 2025 – which is a little less than two years from now – we expect the device to enter the market.
So right now, what we're creating is a small device that fits in your hand that uses cartridges. Soon, we're going to start distributing it to doctors, who can use it to treat patients. The device has single-use cartridges for each patient.
So far, the feedback we're getting is very positive because what a patient wants are results that are discreet and don't leave visible marks. People want others to notice little by little and say things like, 'Hey, you look better; I don't know what you've done, but you look younger'.
This is what our treatment does. We hope to enter the market in two years. At that point, we hope to be able to count on our investors, their friends, and their clinical network and be able to go to market and start selling devices.
Alberto Enguita, CEO of Doctor Marketing:
The truth is that [hair loss] is still a big problem and quite taboo. The entire female sector also suffers from some alopecia. And not everyone from this part of the population is going to get a hair transplant. And at the same time, there's no true solution that can help them.
When you consider getting a hair transplant, of course, people will notice. You're going to have to shave [your hair], you're going to have certain problems. If, with your device, we can stop hair from falling and don't even need to get to the point [of getting a hair transplant], that's already a great leap forward.
When I was looking at the presentation of the device, what caught my attention the most is that apart from being a laser for hair, it's also different from everything previously or currently available in the market. I've been told that certain devices with LEDs or lasers for hair have been tried many other times, but they didn't quite work. I think what is powerful about [StimuSIL] is that you've managed to solve a problem that startups and companies creating devices of this type have had for the last 20 or 30 years.
Tell us a little more about that. I think it's important for people who don't know much about the big difference between your device and older versions [of laser hair therapy] to understand. Why does [StimuSIL's device] work so well compared to others?
Pablo Villalba, Co-Founder of StimuSIL:
The main difference is that these days, laser stimulation is something that's usually used for depilation. It's used for hair removal. And that's because it's being used at a very high power. Anyone who has had laser hair removal knows that the area of skin being treated ends up being a little more sensitive. You have to be careful, you can't immediately expose your skin to sunlight and all that, right?
All of that occurs when we want to destroy hair. If what we want is to regrow hair, the treatment regimen has to be completely different.
For about 15 years, there've been some types of lasers used on top [of the head to regrow hair]. We began to measure the laser power being used and realized that this power is 10 times lower than what it should be to work effectively. In other words, [current laser hair therapy devices] are not really reaching the hair follicle, which is the root of the hair.
So we started to investigate. We ended up looking for ways to actually deliver the power we need. The catch is that it's critical to do this safely because if you put in too much power, you can burn your hair or skin. We needed over a year of research, experiments, and trying new things. This is what led us to develop our patents.
We've now invented this new generation of laser, which is a stimulatory laser. It can be used for hair, but it can also be used to regenerate collagen, reduce and remove wrinkles and scars, and more. These indications are not our focus, but they are new indications that have opened up to us.
We've worked on validating [our technology] as much as possible, so we already have very good data. Hopefully, when we have the final studies with humans, we'll receive our approval.
Alberto Enguita, CEO of Doctor Marketing:
Very good. When I've looked at the Capital Cell information on the website, the current campaign says that there's an x20 estimated return on investment in 2027 – so, for example, if I invested 1,000 euros, I could get a return of 20,000 [euros]. That's estimated, obviously. If things with the company don't go well, it could be a loss, as with any other investment.
What is the plan in 2027 that would allow you to [obtain these returns]? Have you already prepared a timeline or plan in 2027 to sell the company? How would this occur? There isn't much time left until then.
Pablo Villalba, Co-founder of StimuSIL:
What is special about us is that many companies, when they seek financing, are at the beginning of their journey. They have their idea, and they have a team. But we are going through our final steps.
When you read that there's a new drug against Alzheimer's or another disease in the newspaper, in many cases, it will only enter the market in another five years. We are already in these last two years, so our projected exit should be much faster.
As founders, we are focused on creating a high-quality product. But we're also open to merging or selling to a bigger company that really has the ability to bring [our product] to market.
What we've seen in the aesthetic market is that super interesting things are happening. Firstly, there are more and more non-invasive treatments, like Botox, anti-wrinkle lasers, etc. It's as if people are increasingly looking for alternatives to surgery. Instead, they're seeking a healthier, safer, less-invasive treatment. And we're totally in this sector: the non-invasive sector.
This non-invasive sector is about 10 or 20 years old. Prior to that, everything was much more invasive. In this sector, treatments like anti-cellulite, tattoo removal, fillers, and wrinkle removal already exist. But there's still no existing hair [growth] device.
We would be the first [company] to market to doctors exclusively. You wouldn't buy our device on Amazon; we'd sell it directly to doctors, which is the top market and which we believe suits us very well. This market is dominated by four or five large companies worldwide, so it's very clear who the buyers are.
At the return level, we've sought to position ourselves as an American company because the best exits occur there. It hurts a bit to think about it, but really, simply being in the United States can double your exit valuation – which, for the investor, is ideal.
So we're domiciled there and have people there, such as our medical team and regulatory team. And on the other hand, engineering, for example, we do Europe. Similarly, our clinical trials are based here, too, to keep them closer.
At the investment level, we're looking for allies: Someone who enters with 1,000, 2,000, or 5,000 euros. It's a cool, interesting project, and I think being able to go down this path as an investor is also kind of fun, in a way. And we believe that for an investor who wants to diversify a bit of their stock, this adds an element that can yield much higher returns.
Alberto Enguita, CEO of Doctor Marketing:
Yes, plus, as we've mentioned, you're no longer new [to all this]. You've already done it twice in 15 years. And it's not like you're in the initial phase of this project; you're almost in the final phase of going to market.
So, if you are seeing this and are interested in the project, here's the link to the Capital Cell page, where you can read more about the StimuSIL project. The fundraising campaign is still ongoing. You can invest from 1,000 euros, so you don't have to be a big investor or anything like that. [Capital Cell] has all the information listed in case you want to join StimuSIL and Pablo's team.
To end this little podcast, here's more of a personal question of mine. I've realized that mentally, [we] Spanish entrepreneurs still see ourselves as if our products, or what we create, can't cross the pond and succeed in the United States. I don't quite understand why. These days, the whole world is online.
Since you've lived there, tell us a little about it. What are things like there? Give us some advice, the insider info, so that we can get this out of our minds. I think Spain and its emerging entrepreneurs have a lot of potential to be able to conquer many markets, don't we?
Pablo Villalba, Co-founder of StimuSIL:
Yes. Actually, Spain currently has many companies that are already establishing themselves like this, with this international vision.
Personally, I really like the Israeli model. The Israelis have realized that their local market is very small; they have three or four [major] cities. From the beginning, they use their networks and the very good people they have around them. But from day one, they set up their companies internationally.
This doesn't work for every project, but I encourage anyone who is thinking of software, a solution, or something that can be international from the beginning: Don't limit yourself. Really think: What do you need?
The other thing is that, when launching something for the first time, it's helpful to look for people who've already done it and local partners. Talking to people in other regions during the project's initial phases can really help shape a project from its beginning.
Alberto Enguita, CEO of Doctor Marketing:
The [American] entrepreneurial ecosystem… you've been living there, right? How do you see it over there: Are people more prepared than here? Are they the same as us? What do you think?
Pablo Villalba, Co-Founder of StimuSIL:
I think we idealized it a bit, right? Really… we've idealized it.
Alberto Enguita, CEO of Doctor Marketing:
It's like Hollywood, isn't it? We've idealized it.
Pablo Villalba, Co-Founder of StimuSIL:
Yeah, then you go [visit], and it's like four streets.
Really, [Americans] are no better than us. But they do have a culture where failure is allowed a lot. Anyone who does one project can do another very quickly. I think it has that in its favor, but at the end of the day, we have nothing to envy.
I think we [Spaniards] can create very good projects. In fact, many major projects in the United States are developed by immigrants. There's no reason to make them in the United States, either. Today, these projects can be done in Europe with remote work. I think we're in the midst of a good time for this, and I hope to see many more European projects.
Alberto Enguita, CEO of Doctor Marketing:
Awesome! Well, I think there is a change, and I've been noticing it. I've been seeing more startups, more Spaniards launching [projects], more people going all out, and yeah, I'm seeing a change. You've been one of the first because 15 years ago, with how you started, you were one of the main pioneers.
Well, Pablo, thank you very much for sharing your experience and your wisdom with the whole community, and I wish you the best with StimuSIL. I'm sure the fundraising is going very well and is going to market.
If you are a doctor, an investor, or you want to support this Spanish startup and help them progress, here's the link to Capital Cell's website with all the information. If you want to invest and join this cause, you'll be able to find out all the information you're looking for there and invest. 
Thank you very much, Pablo, for being here. See you in another podcast.
Pablo Villalba, Co-Founder of StimuSIL:
Thank you, all the best. See you later!
Originally posted on StimuSIL's LinkedIn.